Shourt Line 3 LED Recessed Lighting Fixture - Drop Ceiling for LGB short G Scale Trolleys
Never have to open up your trolley again to 'tighten' or replace a bulb! This lighting fixture features Life Time Warranty !
Never race and/or crash your trolleys to get your lights to work!
Full interior lighting at starting speeds!
Direct From Manufacturer- Made in the USA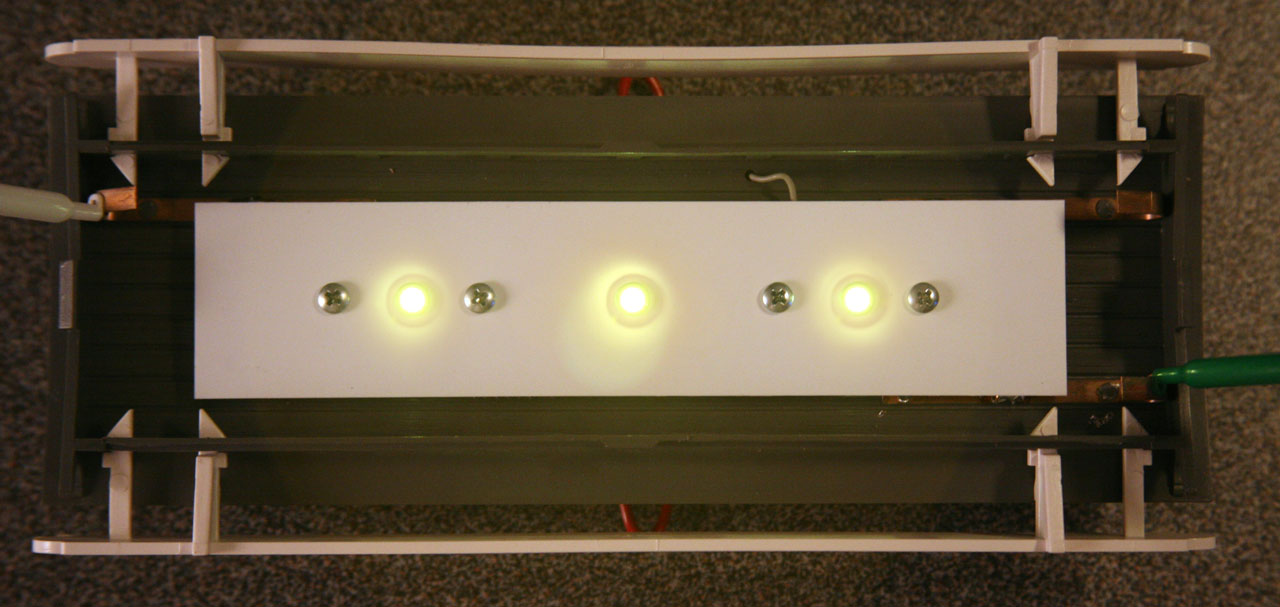 Shourt Line Item Number:
No. 8103210 for DC (analog power 3 to 30 volts) $19.55 NEW
No. 8103220 DCC (DCC, MTS or AC 18 to 30 volts) $19.55 NEW
For questions on this item or details on our professional repair, restoration and digital sound decoder installation services Call 310-622-4431 or email us at info@ShourtLine.com
Description:
Never have to open up your trolley again to 'tighten' or replace a bulb!

Never have to race your trolley to get your lights to work!

Installs in minutes or send us your roof or car and we will install for free! This G-Scale drop ceiling recessed lighting fixture for short two axle trolley or trailers features a full size reflector. 3 LED recessed lighting fixtures with bezel mounting of each LED, provides full illumination at extremely low track voltage (3 to 30Volts DC, AC or DCC model 8104210) or very low current (15 ma 8104220) both operate from a hidden regulated power circuits.
Advantages:
Life time warranty (return to dealer or Shourt Line for repair or replacement)
No need race and crash your trains to get the lights on!
True warm white 2,800 degree K color temperature (unlike other lighting products)
Full interior lighting at starting speeds!
Protypical Appearance; No visible circuit board, electronic parts, sockets or wires
Warm white flat LEDs match the color temperature of your locos lighting.
LEDs are bezel mounted for clean protypical appearance
Easy and fast mounting in seconds
Easy hookup
Works with any track power
Hidden circuit and wiring
Low cost
Two versions for low voltage or low current operation

model 8104210 for full lighting at 3 to 30 volts at 45 ma for DC analog or MTS/DCC
model 8104220 for low current operation at 15 ma at 18 to 30 volts for MTS or DCC
Specifications:
Warm white flat top wide angle LEDs
2,800 degree K - tungsten color temperature light output to match headlight & layout lighting
Bezel mounting on all LEDs for protypical appearance when On and Off
Regulated ultra low voltage current limited circuit
Maximum current:

45 milliamps (.045 amps) for DC (analog) model 8104210
15 milliamps (.015 amps) for AC, MTS, DCC version model 8104220

Operating Voltage range

3 to 30 volts DC, AC or MTS/DCC designed for DC (analog) model 8104210
18 to 30 volts DC, AC or MTS/DCC designed for AC, MTS, DCC model 8104220

Fixture size: 33mm(1.3") Wide X 150mm(6") Long
Four mounting screws
Power wires attach to existing power leads where existing LGB yellow fixtures are powered. 2 each attached wire provided 152mm(6") long X 26 AWG
Completely hidden wiring and circuit components
Made in the USA by the Shourt Line
Mounting and Hook-up Instructions:
LGB Trolleys and Trailers: Remove the car roof following the instructions that came with your train(note the tabs at each end of the roof copula that must move toward each other for the roof top to be removed - the large roof on LGB trolleys and trailers are not removable and need not be removed). Cut the red and black wires at the yellow bulb fixtures. Either a) connect these wires to the respective red and black wires of the new lighting fixture or b) unsolder the LGB wires and solder the lighting fixture wires in their place. Use the 4 screws provided to attached the fixture.

Non-LGB cars: For cars without LGB style mounting studs contact us for custom extra length wires and high temperature self adhesive strips for attaching the lighting fixture to the roof of the car.
Wiring Instructions:
LGB Trolleys and Trailers: Completed above.

Non-LGB cars: Contact us for extra length wires and detailed wiring instructions based on your car.
Optional upgrades: (see our store for details or contact us)
Wood Grain drop ceiling and other drop ceiling patterns and textures available
Dimmer for DC analog version dims 0 to 100% and can be installed to allow dimming by rotating any roof vent.
Massoth 8FL Decoder for MTS/DCC remote on/off and digital dimming + 7 extra functions
Lighting Power buffer for flicker free operation on DC or DCC
Low Cost Gold Cap Lite buffer with up to 5 minutes of lighting without track power! Provides full lighting for automated trolley systems or throttle operations.
Ball bearing wheels sets and carbon bush power pickup kits available at our store for trolley trailer power where you don't want to use the LGB power cable supplied with your trolley trailer.
Photos: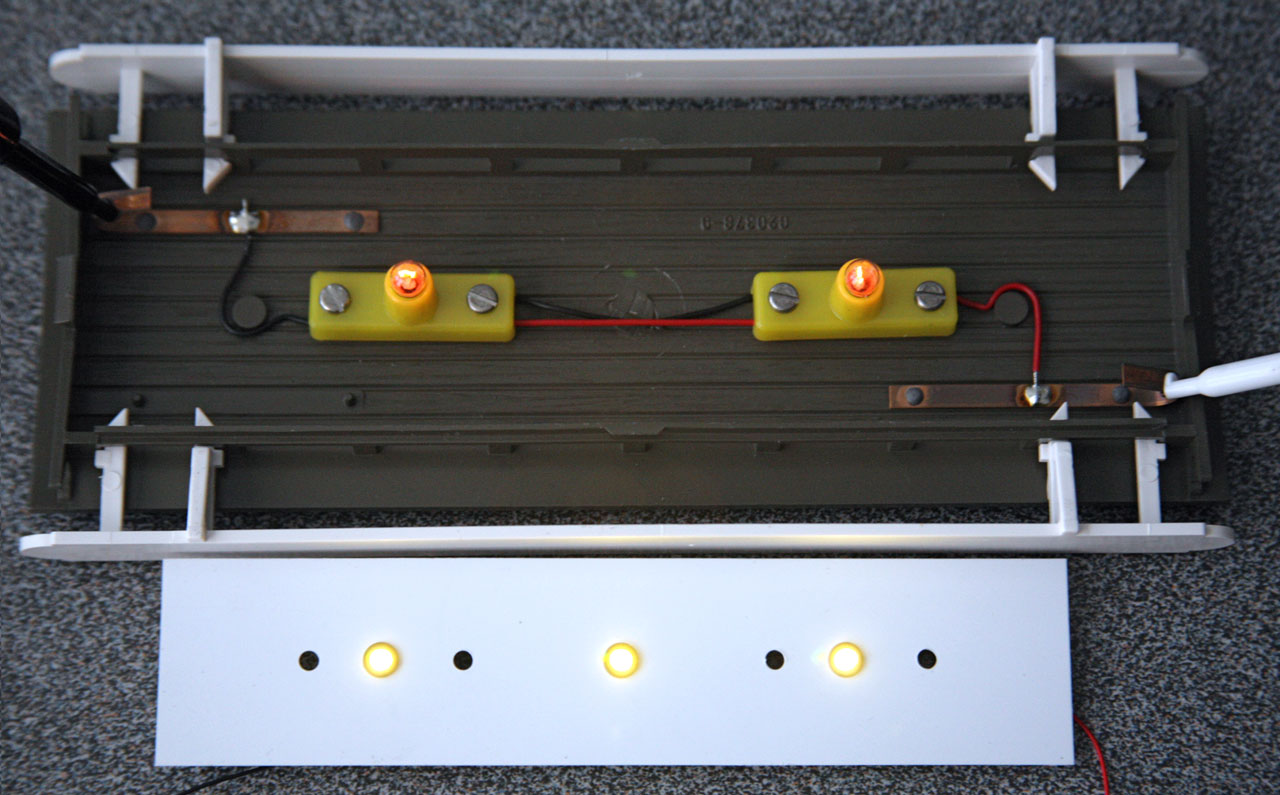 The Shourt Line 3 LED fixture shown below the LGB 18V bulb sockets in the photo above is fully illuminated before the LGB bulbs start to glow! This means no more dark trolleys or trolley crashes trying to get your cars illuminated by applying more speed. The Shourt Line 3 LED drop ceiling freatures a large reflector that provides even illumination, hides the circuit components, electrical parts, wires and keeps wires in the wire channel of the roof for easy roof removal and replacement.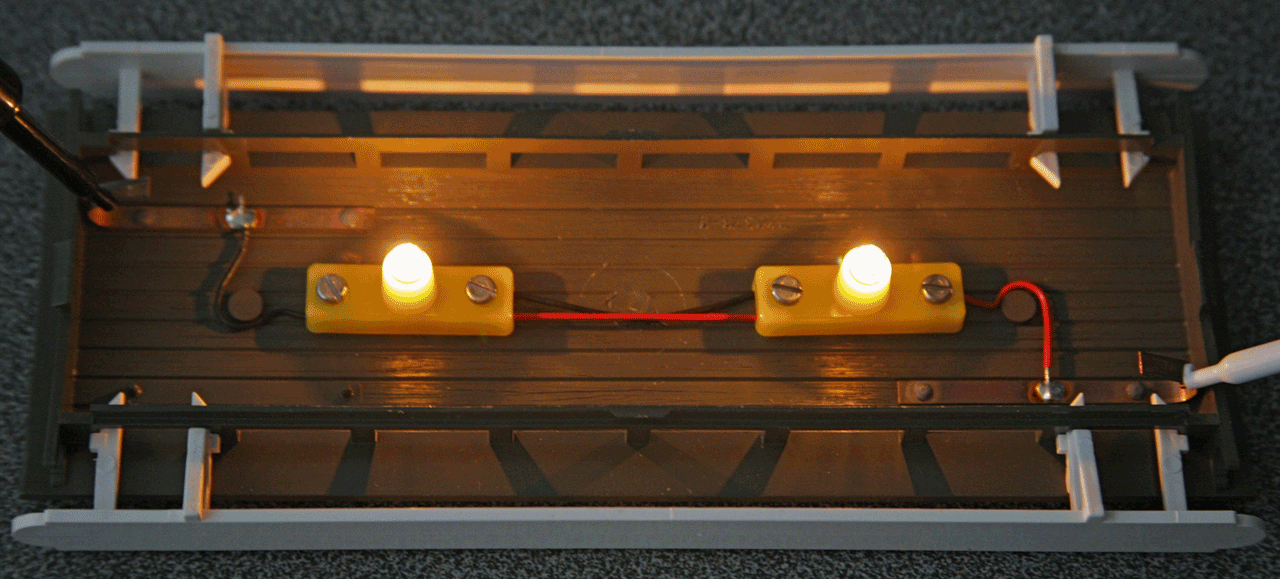 Improve your trolleys lighting and appearance; this animated sequence shows the difference in appearance between the LGB lighting and the Shourt Line drop ceiling fixture with 3 LEDs for full illumination even at trolley starting voltages..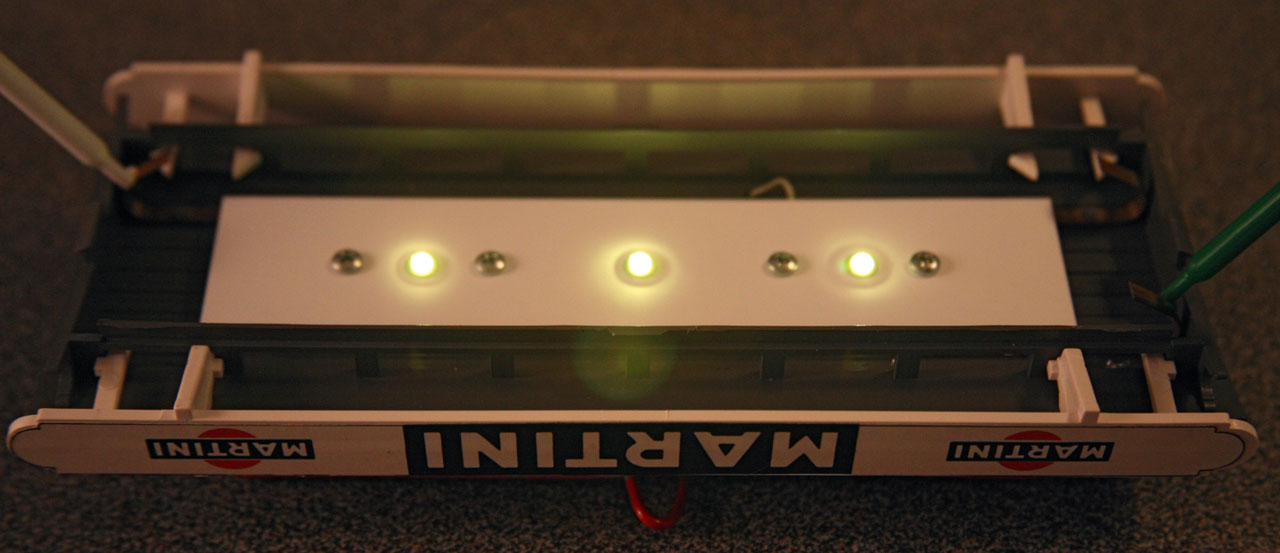 Typical installation showing the lighting fixture mounted on an LGB trolley, note the hidden catinary and lighting wiring and clear prototypical appearance.

Typical installation showing the lighting fixture mounted on an LGB trolley trailer; note the full car lighting levels at even starting speeds!.

Trolley, track and overhead towers not included with lights - see our store for these items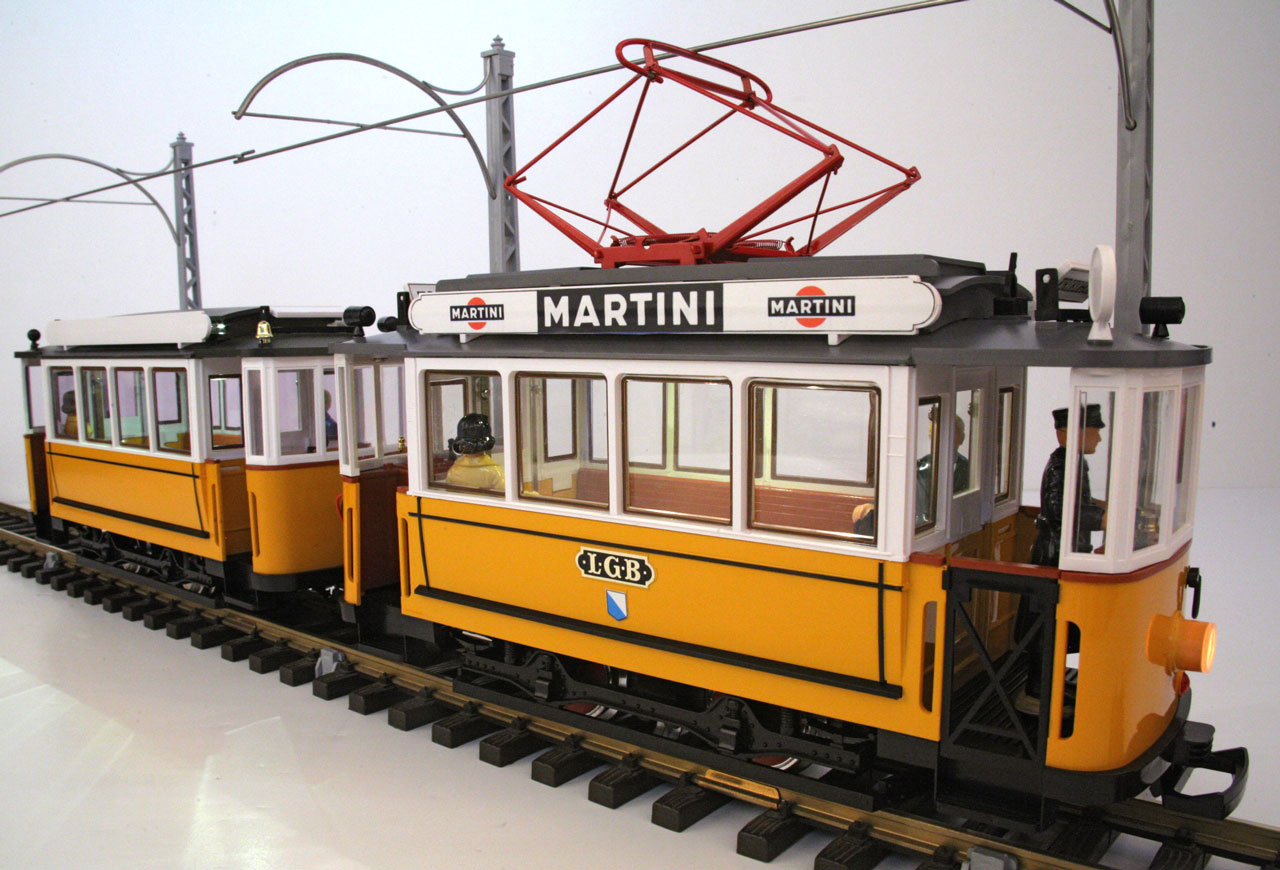 No need to race your trolley trying to get your lighting to operate! The Shourt Line 3 LED lighting fixture supplies full interior lighting as your trolley starts to move and maintains full output at all speeds. (Notice that the head light is barely on but that the Shourt Line 3 LED fixture is fully illuminating the interior with warm white 2800 deg Kelvin color temperature light)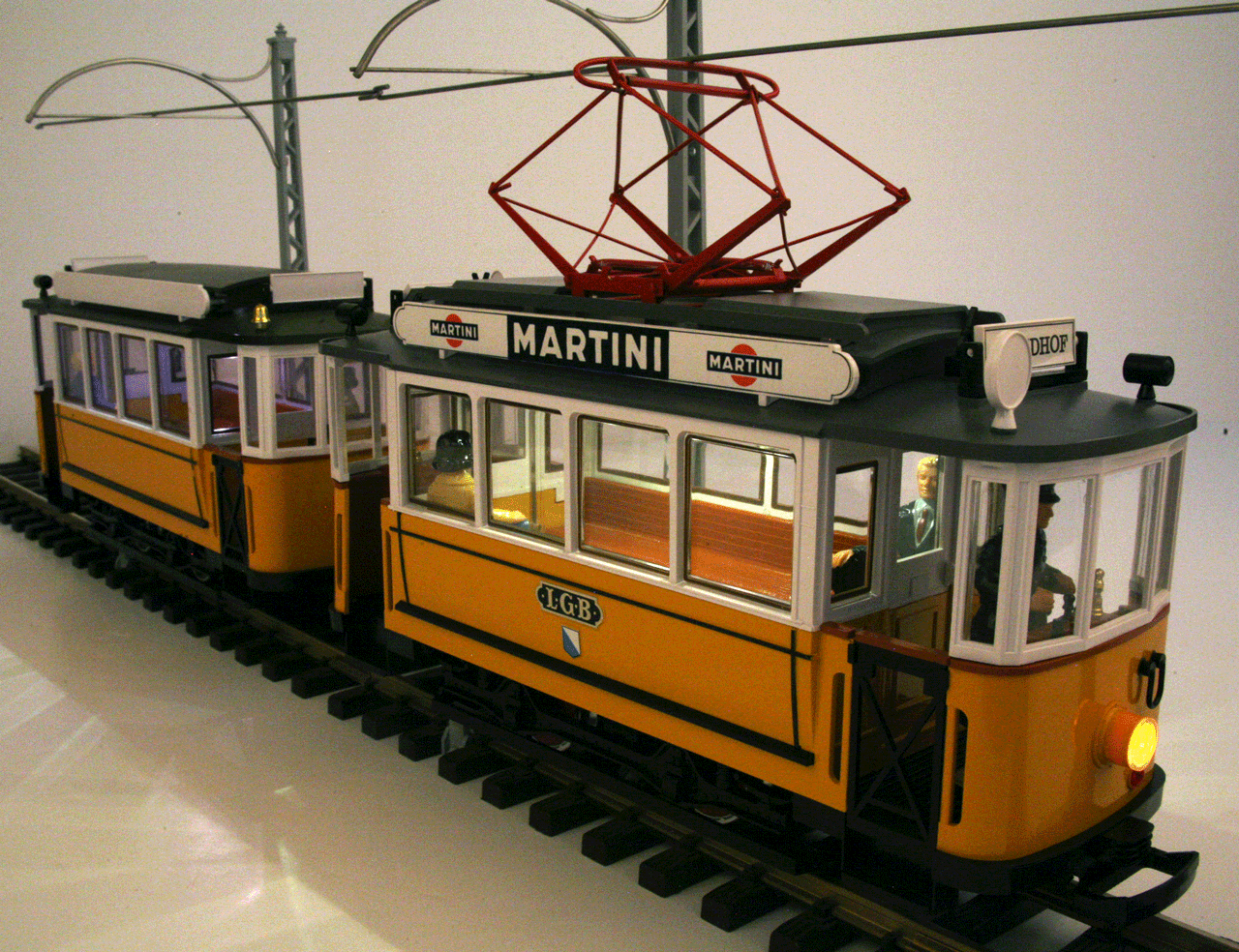 Don't leave your passengers in the dark!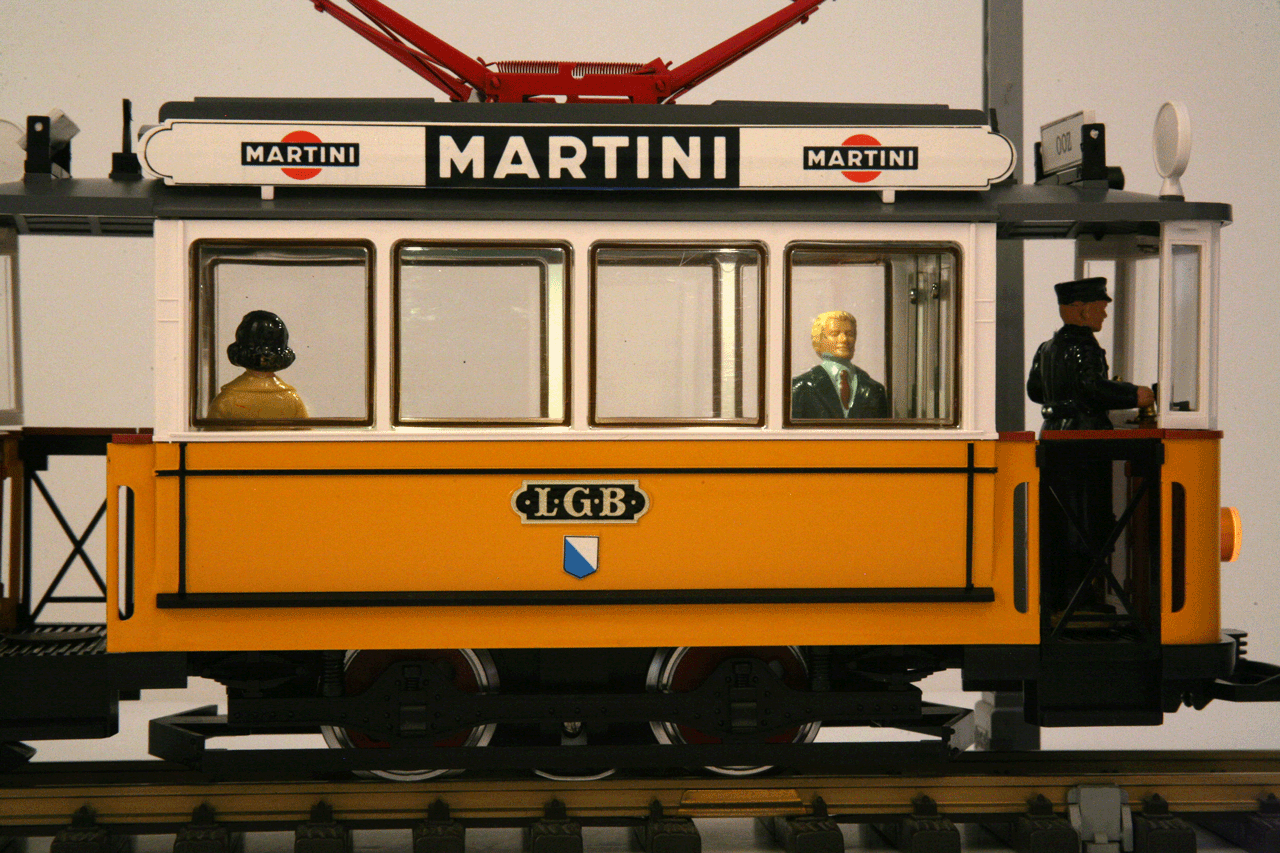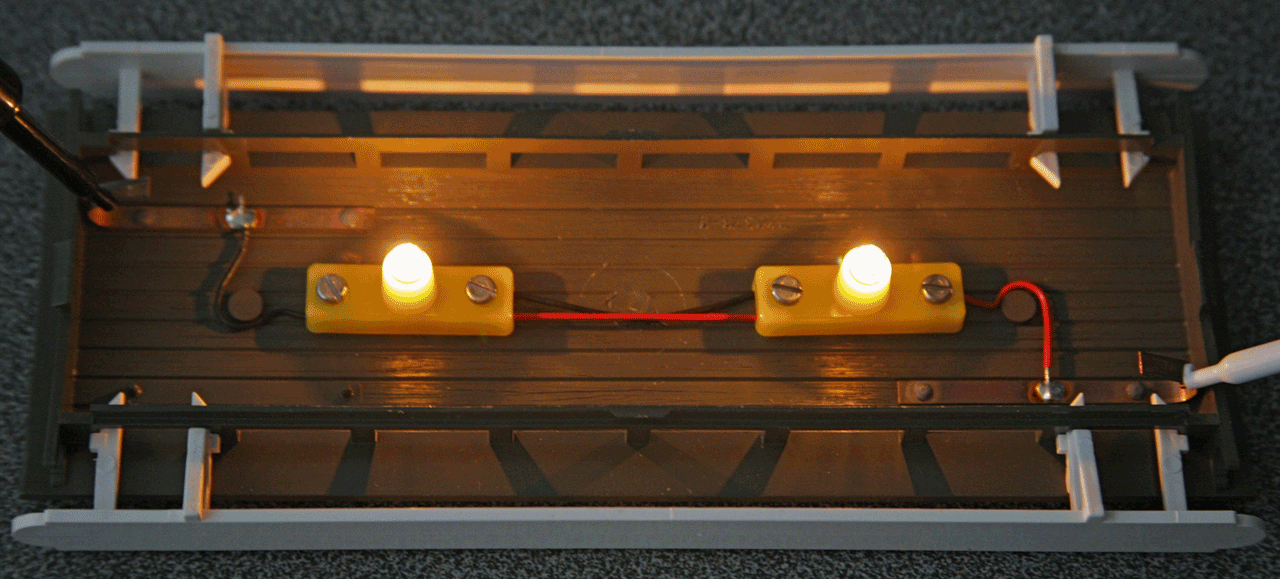 Upgrade your Trolley and Trailer today, it only takes minutes to install for life-time of lighted interiors, no more bulbs to replace, not tightening of bulbs, no racing to make you lights work..
For indoor or outdoor use
Questions? Email info@ShourtLine.com by clicking here
Thanks for looking - Shourt Line by Soft Works Ltd.
copyright 2014 ShourtLine.com - Soft Works Ltd. all rights reserved